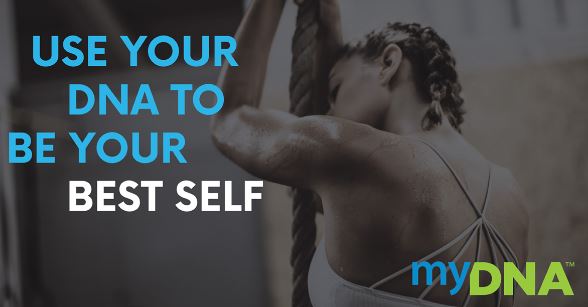 DNA TESTING
Here at Melbourne Infusions we are constantly bringing you ways to become the best version of YOU! Introducing the new science-based myDNA Wellness & Nutrition plans that help you discover how your genes can affect your lifestyle choices. Imagine knowing exactly what your body needs to get the maximum results from it. Personalised to YOU. Well now you can
What is your DNA?
DNA stands for Deoxyribonucleic Acid and is the genetic code that determines all of your characteristics. MyDNA products decode this information in your genes to deliver insights to help you make better health, wellness and lifestyle decisions.
About 99.9 percent of the DNA of every person on the planet is exactly the same. It's that 0.1 percent difference that makes us all unique. How you manage your wellness should be as unique as this 0.1 percent.
What tests are available at Infusions Melbourne?
At IM we have two myDNA tests available, each allowing you to better understand your unique self. The myDNA Fitness & Diet test will provide you with a personalised meal and fitness plan powered by your own DNA insights while the myDNA Vitamins test will reveal personalised vitamin recommendations.
myDNA Vitamins –
Cost $99
A simple at-home-cheek-swab will allow you to analyse variations in 18 genes to arm you with the tools and plans you need to smash your goals. Remove the guesswork and access a personalised diet plan to help you maintain or lose weight as well as an 8-week fitness plan to build strength, improve cardio or get lean.
myDNA Fitness & Diet –
Cost $79
The same simple swab test allows you to use your DNA to personalise your vitamins. 15 genetic markers are tested that provide information regarding your needs for 9 micronutrients including Vitamins A, B6, B12, C, D, as well as Folate, Calcium, Iron and Omega-3..Find out which of these should be your core focus, learn how your lifestyle might impact your micronutrient needs and take action to maintain your optimal levels, including the foods you can introduce to your diet. Your results will be available to you 24/7 on your very own secure online portal